Grow Lights
HydroGlow LED Grow Light
The HydroGlow LED Grow Light allows you to grow your own plants in indoor conditions regardless of whether your home receives direct sunlight or not. To determine whether this grow light is the best choice for you, take this short quiz here!
---
---

Why you will love it!

Built In Timer

The light comes with a built-in timer that allows it to be turned on for 3 hours, 9 hours, 12 hours, or indefinitely.

Custom light settings

The lamp itself comes with 3 replaceable LED grow lights - with 5 light intensity levels for each setting. The lights can be controlled so that you have one, two, or all three lights on at once.

Adaptable to fit your space

The HydroGlow LED light can be attached to tables with its easy to use clip. Its flexible neck allows for a versatile range of layouts for all your soil and hydroponic plants.

How It Works

With a robust metal design, and quality Light Emitting Diodes (LEDs) which emit a "full spectrum" of wavelengths, this product is a quality investment for anyone hoping to level up their plant game! The primary wavelengths of light required for plant growth are the blue and red wavelengths. 

These segments of the light spectrum are crucial in aiding a plant's growth as blue light stimulates the formation of chlorophyll (crucial in the process of plant photosynthesis which aids healthy leaf and stem growth), and red light promotes germination, root growth, and bulb development. This product provides those wavelengths, as well as others to result in a user friendly "white light" output. 

Specifications

 

Dimensions

Adjustable neck: 39cm

Power cord: 155cm

Included Parts

The frame (clamp, adjustable necks & cord) of this light is black.

1 x LED grow light
1 x USB cable
1 x Wall socket adaptor
1 x Users manual
Integrated controller

Note: Light does not come with the pot

Input Voltage
5V
Rated Power
10W
Monthly Energy Cost*
~ $ 0.91

* Assumes 12 hours per day, with average Australian Electricity prices of $0.25/kWh.

Lifetime
50,000 hours (5 years of continuous use)
Customer Reviews
Write a Review
Ask a Question
15/10/2021
Caroline B.

Australia
HydroGlow LED Grow Light
Love the nice warm light it has, very happy with it my plants love it, only wish I could use it freestanding to since u can only clip it to stuff but overall love it defiantly recommend
04/10/2021
Abbie J.

Australia
Easy to set up and versatile
These grow lights are great. I've used them for indoor plants and raising seedlings and it's been an unexpected bonus to be able to move them around. They are flexible and sturdy, and the multiple intensity settings give you a fair amount of control. Will definitely be buying more!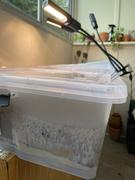 13/09/2021
Joseph R.

Australia
Clean and easy
Handy little clip on lights. Using them to grow some moss on my bookshelf. Only annoying thing is the controller, seems a bit cheap and had trouble getting it to turn on at first. Also blinks a blue LED when using the timer which is a bit obnoxious at night, a bit of electrical tape should fix it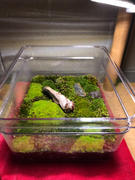 13/09/2021
Connor

Australia
Great light.
I got the 3 headed version and it's a great grow light with good intensity (doesn't seem too bright to burn them but strong enough for the growth). The colour seems quite good too and gives off a little more 'yellow' glow than most white ones. The lights are very flexible and stay in their position a lot better than some other ones I have (like the 2 headed one in the bottom of my pic). The only downsides I have is that It's advertised to have a 3hr, 9hr or 12hr timer but mine only has 3hr, 6hr or 12hr. The 9hr would be perfect for me as 6hrs isn't enough and 12hrs is too long but unfortunately mine doesn't have that setting :( It also seems to have a single faulty LED on one of the heads (not that it really affects the lighting) that I hope doesn't spread (see pic).
12/08/2021
Lauren

Australia
Great
The light intensity seems really good, they seem pretty sturdy lights. The clip is very sturdy however if the lights need to be at too weird an angle, it dosnt hold up. No real complaints tho!